100% Online Certificate in Digital Marketing Management
Prepare to Succeed
Request More Information
Complete this form to receive information about coursework, admissions, tuition, and more.
Duration

6 months

Cost per Credit

$410

Credit Hours

15
Program Benefits
Gain core business knowledge and experience
Earn Industry Certifications
Learn directly from industry professionals
Use a Digital Focus to Drive Marketing Efforts
Take the online Digital Marketing Management Certificate at Bay Path University to upskill your abilities, transfer your career to marketing, or in addition to a current degree program. You'll learn how to execute successful campaigns and build brands online while earning Google certifications. Gain experience delivering an optimized web experience for prospective buyers with landing pages and marketing automation.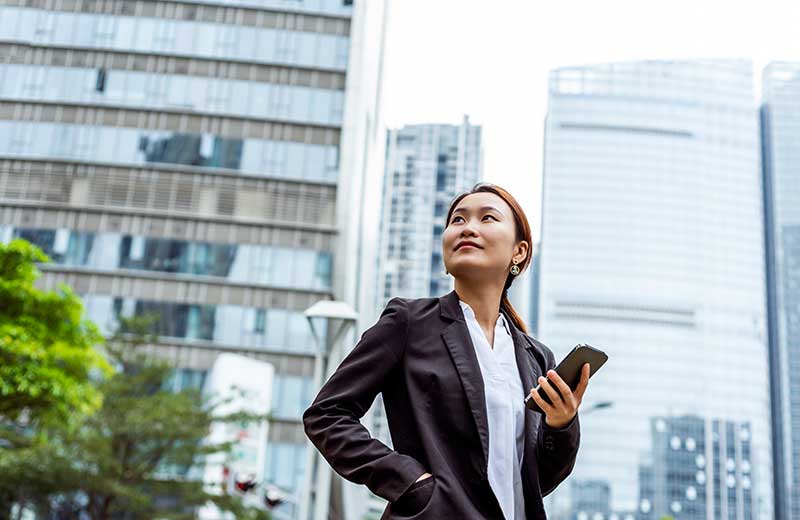 Build Your Marketing Career Among Women Leaders
In the U.S., women hold 60% of all marketing positions and most leadership roles, dominating the industry.1
53% are at director levels or higher
59% are managers
52% are chief marketing officers
Roles for women with management skills are growing fast. Between 2020 and 2021, the top three titles women stepped into were marketing manager, director, and specialist. The three fastest-growing titles for women were director of growth, account strategist, and creative strategist.
Build Real-World Experience and Skill Sets
Within our online Certificate in Digital Marketing Management curriculum, you'll gain the skill set and credentials to evaluate the most current digital marketing landscape.
You'll get expert-level instruction from industry professionals who prepare you for the real challenges of advanced roles and ensure you can thrive throughout your career.
Course Highlights*
Businesses today rely on a robust and vibrant social media presence to tell their story to a wide variety of audiences, for a wide variety of purposes. This course explores the ways that businesses can use an intentional social media strategy to meet their organizational goals. Social media tools, their benefits and limitations, and their usage will be explored.
Prerequisite: BUS 226
This course presents media-oriented analysis of advertising and sales promotion related to the marketing of goods and services. Budgeting, reach and frequency as well as the development of multimedia advertising campaigns highlight this theoretical, yet practical approach.
Prerequisite: BUS 226
The students in this course will be introduced to the concept of branding and its impact on products, lifestyles and societies within the element of marketing. The students will examine the history of branding, discuss the development of strong and seemingly impervious brands, as well as develop an innovative brand position for an entrepreneurial venture. Students will learn to identify, evaluate, create, and present their own positions on branding as a consumer and as a marketer.
Prerequisite: BUS 226
In Digital Marketing Management, students will learn the basics of delivering paid search, display and inbound campaigns. Students will learn how to define buyer personas, conduct industry research, set smart goals, analytically pick keywords, optimize website pages, create content, and build links around terms ideal buyers are searching for. Finally, students will be able to evaluate which marketing efforts bring the best conversations or leads.
Prerequisite: BUS 245, BUS 260
In the Capstone Project, students will develop a full digital marketing campaign for a real business. The students will learn the activities needed to attract a target group of visitors to the business website. Students will also map out and decide on premium content and promotional activities needed to convert website visitors to leads or buyers an delight customers after conversion. Finally, students will deliver final recommendations in a presentation.
Prerequisite: BUS 404
Value of a Certificate
Certificates bring a high level of focus to upskilling a particular area of competencies. In the online Certificate in Digital Marketing Management, you'll learn to use data and technologies to create and implement strategies.
You may also explore the BS in Business: Digital Marketing Management degree.
By Graduation, You'll Have Skills to:
Develop an effective social media campaign
Manage digital media tools and applications
Assess and manage online branding issues
Perform effective online marketing research
Apply analytics to measure your success and inform your strategy
Get Started Now
Application Deadline July 2024
We realize how difficult it can be to start something new, so we make it easy and risk-free to get started. There's no application fee, and no test scores are needed.
Applicants will need the following to apply:
A completed application
Official transcripts from your high school or all regionally accredited institutions you have attended
We're Here to Help with Tuition and Aid
Our dedication to your success starts with making our programs financially accessible. Our cost per credit is just $410 in undergraduate programs. Our Student Financial Services team can work with you one-on-one to provide the information you need regarding the FAFSA®, private loans, grants, outside scholarships, and more.
Frequently Asked Questions
Explore our frequently asked questions for in-depth answers. If you don't find what you're looking for, reach out to us.
Choose to add a certificate to your degree program or to upskill your marketing abilities. The Digital Marketing Management Certificate gives you the knowledge necessary to build strategic plans to engage a digital audience and the skills you need to launch them.
Our application deadlines are on a rolling basis, please visit the Admissions page for start dates and their deadlines.
You'll need to take an entry-level marketing course such as Principles of Marketing or Into to Marketing.
Those with a Digital Marketing Management Certificate have upskilled their current marketing abilities to transfer into a different marketing area or lead their teams in a new area. If you're adding this certificate to your degree, you can be confident in taking on a marketing career in the area of study in your bachelor's program.
Visit our FAQ page