100% Online Certificate in Business Analytics
Duration

9-10 months

Cost per Credit

$410

Credit Hours

15
Program Benefits
Gain core business knowledge and experience
Build skills specific to business analytics
Learn directly from industry professionals
Learn Business Analytics to Create Powerful Strategies
Take the online Business Analytics Certificate program as an addition to your degree at Bay Path or to upskill your current position, gaining a powerful skillset to fuel your decision-making and strategy process. You'll learn to mine data, use analytics to develop successful decision-support models and strategies, and gain presentation skills to influence stakeholders. With 95% of employers stating these skills are hard to find,1 you'll find value in your new knowledge immediately.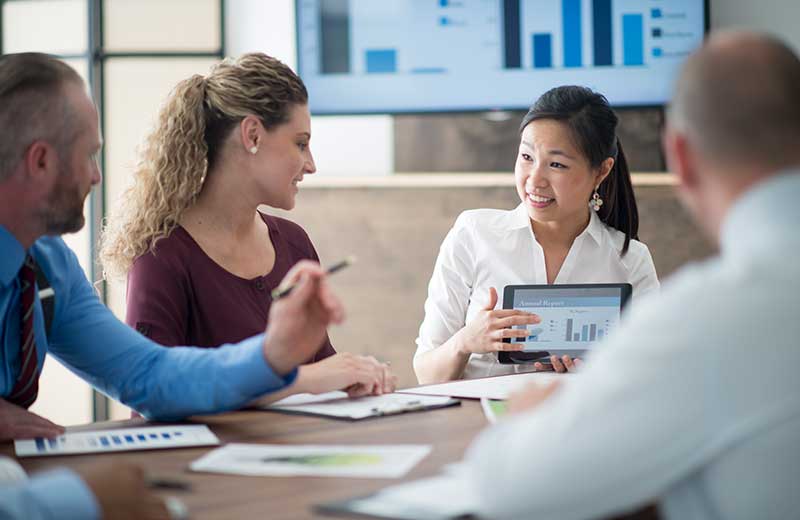 Your Business Analytics Skills Are Needed Across Industries
Strong business analytics skills fuel strategy and decision-making that drives deep revenue, profits, and loyalty within any company — a fact that has 80% of global companies investing in a data analytics division.1 Companies that use big data see an average:
Profit increase of 8%2
Cost reduction of 10%2
Despite this, 92.2% of executives say implementing data-driven decisions has been difficult, and 79.4% fear more data-driven companies will outperform them.2
Build Real-World Experience and Skills
The curriculum for our online Certificate in Business Analytics helps you to build experience identifying reasons for business results and important trends that impact success.
You'll get expert-level instruction from industry professionals who prepare you for the real challenges of advanced roles and ensure you can thrive throughout your career.
Course Highlights*
This course will provide the theoretical basis and the problem solving experience needed to apply the techniques of descriptive and inferential statistics, to evaluate such daily inputs as organizational reports and to improve decision making over a wide range of areas. Topics include: descriptive measures, distribution shapes, concepts of probability of discrete and continuous random variables, hypothesis testing of one, two samples, chi-squared and f-test, regression, ANOVA, using Excel and SAS for solving and interpreting statistical problems.
Prerequisite: COM 112 and MAT 120
This course will provide an overview of the key concepts, applications, processes and techniques relevant to business analytics. This course shows how to interpret data involving uncertainty and variability; how to model and analyze the relationships within business data; and how to make correct inferences from the data (and recognize incorrect inferences). The course will include instruction in the use of software tools to analyze and present quantitative data. As the market demand for professionals with data management, analytical and problem-solving skills increases, this course provides an analytical toolset to address modern, data-intensive business problems.
Prerequisite: MAT 120
This course will teach students what factors will have an impact on the outcomes of complex systems, how to determine the current state of those factors, and how to analyze and offer solution sets that encompass all necessary variables. In an increasingly interconnected world, the impact of decisions in one aspect of the system can have profound and unintended consequences on another part of the system. The ability to understand and design systems to achieve business outcomes across an increasingly complex ecosystem will require a skill set in understanding quantitative as well as qualitative and behavioral change.
Data analytics deals with inferring and validating patterns, structures and relationships in data, as a tool to support decisions in the business environment. The course introduces the techniques necessary to successfully implement analytic and visualization projects using the modern software tools. The course offers an insight into the main methodologies for the visualization and analysis of business and market data, providing the skills for specific tasks such as data cleansing and preparation, visual design best practices, and statistical methods. Data visualization topics covered include design principles, perception, color, statistical graphs, maps, trees and networks, data visualization tools, and other topics as appropriate.
Prerequisite: BUS 328
In this capstone course students will work on real world problems from case studies or personal examples. As organization continue to face complex environments with global competition, more informed consumers, and ever-increasing streams of data and intelligence, the ability to make the right strategic decisions based off facts and data becomes critical to success. Students will formulate the business case, develop analytic models, collect and analyze pertinent data and define the systems that will most effectively achieve the necessary outcomes. The capstone will be a presentation of work along the recommendations.
Prerequisite: BUS 400
Value of a Certificate
Courses in the online Certificate in Business Analytics give you a focused skill set to use in whatever industry your career or degree is in. You learn how to sift through, organize, and make sense of various types and levels of information a company collects so you can identify business trends and consumer behavior patterns and complete financial projections.
By Graduation, You'll Have Skills to:
Connect business activities with economic performance and mission outcomes
Develop flexible decision support models that can adapt to organizational needs
Use quantitative methods, technology, and applications to address business problems and opportunities
Compare business options and approaches to reduce risk and predict outcomes
Effectively communicate data insights and recommendations to stakeholders
You may also explore the BS in Business: Business Analytics degree.
Get Started Now
Application Deadline 03/01/24
We realize how difficult it can be to start something new, so we make it easy and risk-free to get started. There's no application fee, and no test scores are needed.
Applicants will need the following to apply:
A completed application
Official transcripts from your high school or all regionally accredited institutions you have attended
We're Here to Help with Tuition and Aid
Our dedication to your success starts with making our programs financially accessible. Our cost per credit is just $410 in undergraduate programs. Our Student Financial Services team can work with you one-on-one to provide the information you need regarding the FAFSA®, private loans, grants, outside scholarships, and more.
Frequently Asked Questions
Explore our frequently asked questions for in-depth answers. If you don't find what you're looking for, reach out to us.
Choose to add a certificate to your degree program or to upskill your change management abilities. Choosing the online Business Analytics Certificate to accompany a degree program gives you a powerful skill set to use in your area of study. Those who take the certificate independently can advance their careers and better inform their teams.
Our application deadlines are on a rolling basis, please visit the Admissions page for start dates and their deadlines.
Yes, you'll need to have taken Statistics and Excel Spreadsheets.
Those who upskill within their current role with the Business Analytics Certificate are able to make stronger strategic decisions and advance their careers. Those who take this certificate in addition to their degree program bring a powerful skillset to their area of study to better lead and manage teams.
Visit our FAQ page