Duration

2 years

Cost per Credit

$350

Credit Hours

120
Program Benefits
Ranked #4 Best Online Nursing Degree by OnlineU
Increase your salary potential by $20,0001,2
Learn from nursing experts
Access courses on your schedule through an interactive, virtual classroom
6 start dates per year
The Next Step in Your Nursing Career Starts with a BSN
The online BSN program from The American Women's College of Bay Path University (TAWC) is designed for registered nurses who want to advance into leadership roles. This bachelor's degree offers a CCNE-accredited curriculum that delivers the skills required to advance in your current institution, move into specialty healthcare settings, and increase your salary potential.*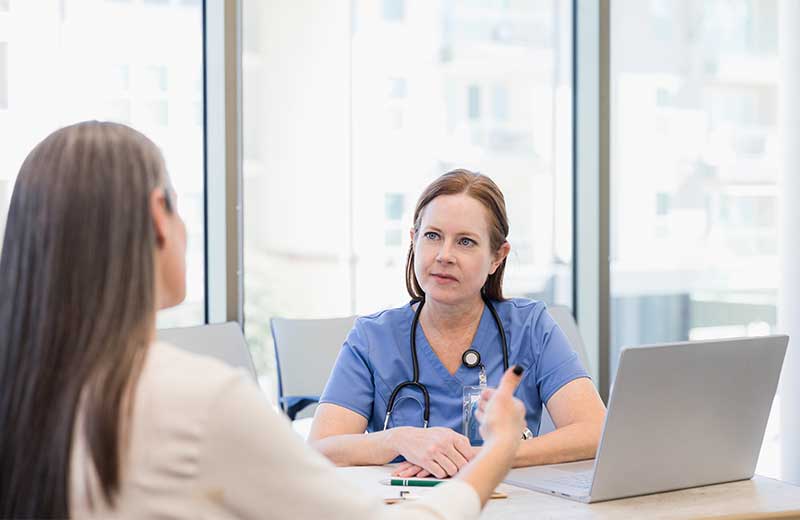 Enhance Your Nursing Skill Set
The Bureau of Labor Statistics expects the healthcare industry to grow 13% by 2031 and create 2 million new positions for professionals in the field.3 Throughout the decade, more than 195,000 positions are expected to be created for nurses who complete a BSN.4 With the online Bachelor's in Nursing program, you'll become qualified for these new opportunities and more while standing out to employers.
Are you ready to unlock your professional potential with an online BSN degree?
Explore Careers
Choose a CCNE-Accredited Curriculum
The online BS in Nursing degree utilizes a CCNE-accredited curriculum to deliver the advanced skills today's nursing employers demand. You'll learn from industry experts and build career-ready skills in healthcare and nursing. You'll also gain hands-on experience through two capstone requirements.
Course Highlights
Population Health and Global Diversity
Community Health and the Nursing Professional
Leadership in Practice for Nurses
Curriculum Details
Apply Today
Transfer up to 84 Credits
Don't delay your full nursing potential. Discover what you could achieve and apply to the online BS in Nursing program today.
Admission requirements include:
Submit your application
Must have an associate degree in nursing from a regionally-accredited institution with a cumulative 2.7 GPA
A passing score on the NCLEX-RN Exam
Must have a current nursing license and good standing status as a registered nurse in the United States
Submit two letters of professional recommendation
Submit an admissions essay describing your vision and goals of the personal and professional advantages of earning a Bachelor of Science degree in Nursing
Candidates will need to successfully pass national background checks per state requirements**
Admission Details
Invest in Your Nursing Career
$42,000 Estimated Total Tuition
The online BSN program is a stepping stone to advanced nursing career opportunities and higher salary potential. Earning your degree online with TAWC is an investment in your future, which is why the University provides options for financing your education. Discover the financial aid resources available to you.
Tuition Details
What You'll Learn
The online BSN degree utilizes a curriculum that's accredited by the Commission on Collegiate Nursing Education (CCNE) and is aligned with today's top standards for the field to ensure you graduate fully equipped for the nursing career you want. With support from expert faculty, you'll build expert leadership, research, communication, collaboration and technology skills that can be applied in a variety of healthcare settings.
By Graduation, You'll Have Skills to:
Demonstrate a comprehensive knowledge of nursing practice, including a foundation in liberal arts, natural and social sciences
Practice holistic patient-centered care, emphasizing diversity, equity and inclusion that is individualized, respectful, compassionate, coordinated and based on best evidence and clinical judgment
Advocate for the care and protection of population health across the healthcare delivery continuum
Integrate nursing scholarship, theory, research and policy to improve and transform healthcare
Foster a culture of quality and safety to maximize the provision of healthcare
Demonstrate effective communication, teamwork and collaboration to optimize patient care and experience
Apply knowledge of systems-based practice to optimize the provision of healthcare
Achieve a sustainable professional identity, embracing the values of integrity, altruism, inclusivity, compassion, courage, humility, advocacy, autonomy, humanity and social justice
Deploy leadership skills in activities that foster personal health and resilience
Learn from Industry Experts
At The American Women's College, your learning is expanded by the rich workplace experience our faculty bring to the classroom. Faculty are professionals who hold an array of titles in the fields they teach. Their involvement in the day-to-day challenges of their role and industry brings curriculums to life with real-world examples as you connect what you learn to what they share.
Faculty Spotlight
Each faculty member at TAWC incorporates real industry experience into each lesson. As a student, you'll receive personalized, one-on-one support and graduate fully prepared to face the challenges of your chosen field.
Marjorie Bessette, MSN, BSN, RN, Director, Health and Nursing
Marjorie Bessette has the following expertise and more than seven years of experience directing and teaching the HSA and Nursing program at Bay Path.
30 years in Nursing
20+ years in Acute Care Nursing at Mercy Medical Center
Clinical expertise in Emergency, Medical Surgical, Rehabilitation and Gerontology
Nurse Management for three nursing units in Acute Rehabilitation, three Medical Surgical units, the IV team and the orderlies
11+ years as a Nursing Professor for associate degree Nursing and Practical Nursing students
Six years as Chair of the Practical Nurse Certificate Program
Curriculum Development
Clinical partnership development with academic and clinical agencies
Board of Registration in Nursing Collaborative Task Force for 244 CMR 6.00
BLS/American Heart Association Instructor
Frequently Asked Questions
Explore our frequently asked questions for in-depth answers. If you don't find what you're looking for, reach out to us.
Sources and Disclaimers
*The Bachelor of Science in Nursing (BSN) program at The American Women's College of Bay Path University is accredited by the Commission on Collegiate Nursing Education (CCNE). Visit https://www.aacnnursing.org/ccne-accreditation.
**Required prior to the start of clinicals.
Bay Path University nursing programs are for students who already hold a registered nurse (RN) license. The post-licensure nursing programs are open to students with an unencumbered nursing license in all U.S. states. Those students who wish to practice outside of Massachusetts may contact the State Board of Registration in Nursing for the state in which they reside for further information. Read our disclosure statement to learn more.