Duration

3.5 years

Cost per Credit

$410

Credit Hours

120
Program Benefits
Gain expertise that can be applied in diverse industries
Access courses on your schedule through an interactive, virtual classroom
One-on-one instruction from faculty
Gain Change-Making Skills for a Variety of Fields
With the BA in Psychology online degree from The American Women's College of Bay Path University (TAWC), you'll gain a skill set sought by diverse employers, plus the credential to pursue a graduate degree in the academic area of your choice.
The online BA in Psychology degree offers five majors in addition to the general psychology degree. Choose the major option that best supports your long-term career goals and discover what you could achieve with a college education.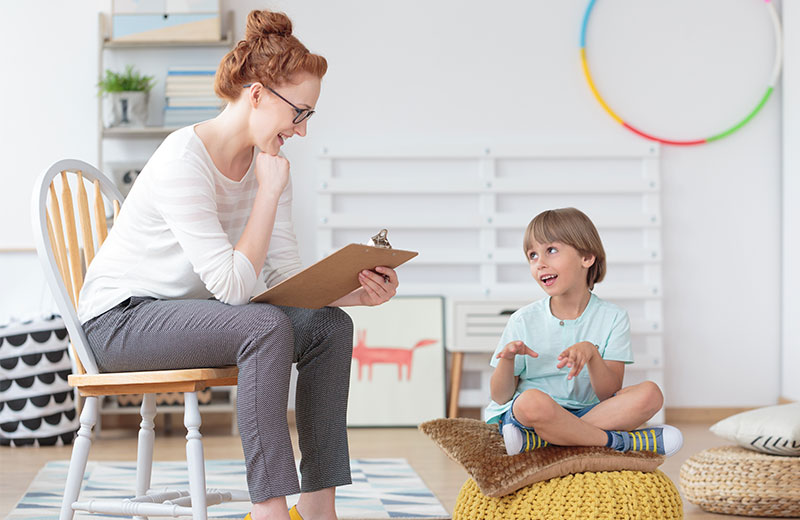 In-Demand Skills for the Career You Want
According to the Bureau of Labor Statistics, the psychology field is expected to grow at a steady pace of 7% through 2031, creating more than 98,000 new positions.1 This online Bachelor's in Psychology degree will prepare you for a variety of these positions, plus provide you with skills that are necessary for professionals in nearly every industry.
The next step in your chosen field begins here. Discover what you can achieve by completing your bachelor's degree.
Explore Careers
Choose from 5 Majors
Customize your BA in Psychology program by choosing from a variety of career-focused majors designed to help you achieve your professional goals.
BA in Psychology: Child Psychology
The online BA in Psychology: Child Psychology examines the physical, intellectual, emotional, social, and moral aspects of child development.
BA in Psychology: Counseling Foundations
The online BA in Psychology: Counseling Foundations major offers experiential learning through instruction, role play, and internships (optional).
BA in Psychology: Forensic Psychology
The online BA in Psychology: Forensic Psychology major combines insights of psychology within the mental health, criminal justice, and legal systems.
BA in Psychology: Foundations of Alcohol and Drug Abuse Counseling
The online BA in Psychology: Foundations of Alcohol & Drug Abuse Counseling degree prepares you to effectively support those struggling to overcome addiction.
BA in Psychology: Human Services and Rehabilitation
The online BA in Psychology: Human Services & Rehabilitation degree explores the needs of individuals and communities in social, rehabilitation and human services settings.
Asynchronous Courses, Career-Ready Skills
The online BA in Psychology degree delivers skills in all facets of the field, including counseling, behavioral research, and developmental psychology. Additionally, the program also offers critical thinking and communication expertise that can be applied in nearly all industries.
Course Highlights
Psychology of Cultural Diversity
Theories of Personality
Social Psychology
Curriculum Details
Apply Today
Transfer up to 90 Credits
Don't put your professional goals on hold. Discover what you could achieve and apply to the online BA in Psychology program today.
Applicants will need the following to apply:
A completed application
2.0 GPA or higher

Note: Students with a GPA under 2.0 may be considered
Official transcripts from your high school or all regionally accredited institutions you have attended
Admission Details
Invest in Your Education
$49,200 Estimated Total Tuition
The online BA in Psychology major is designed to set you up for success in the professional field of your choice. Earning your degree online with TAWC is an investment in your future, which is why the University provides options when it comes to financing your education. Discover the financial aid resources and scholarship opportunities available to you.
Tuition Details
What You'll Learn
The curriculum for the online BA in Psychology major is aligned with the program level outcomes of the American Psychological Association to ensure you graduate ready for professional success. Through each course, you'll build expert-level skills in critical thinking, behavior analysis, and communication that can be applied in a variety of professional fields.
By Graduation, You'll Have Skills to:
Describe key concepts, principles, and overarching themes in psychology
Develop a working knowledge of psychology's content domains
Describe applications of psychology
Use scientific reasoning to interpret psychological phenomena
Demonstrate psychology information literacy
Engage in innovative and integrative thinking and problem solving
Interpret, design, and conduct basic research
Incorporate sociocultural factors in scientific inquiry
Apply ethical standards to evaluate psychological science and practice
Build and enhance interpersonal relationships
Adopt values that build community at local, national, and global levels
Demonstrate effective writing for different purposes
Exhibit effective presentation skills for different purposes
Interact effectively with others
Apply psychological content and skills to career goals
Exhibit self-efficacy and self-regulation
Refine project-management skills
Enhance teamwork capacity
Develop meaningful professional direction for life after graduation
Learn from Industry Experts
At The American Women's College, your learning is expanded by the rich workplace experience our faculty bring to the classroom. Faculty are professionals who hold an array of titles in the fields they teach. Their involvement in the day-to-day challenges of their role and industry brings curriculums to life with real-world examples as you connect what you learn to what they share.
Faculty Spotlight
Each faculty member at TAWC incorporates real industry experience into each lesson. As a student, you'll receive personalized, one-on-one support and graduate fully prepared to face the challenges of your chosen field.
Michelle McGrath, MA, Senior Director, Psychology Programs
Michelle comes to Bay Path with a combination of experience in the field of psychology as well as higher education. She began her career working as a licensed clinician in a variety of mental health settings, and eventually transitioned to working in higher education where she could combine her interests.
Prior to coming to Bay Path University, she worked at Southern New Hampshire University supporting students in a variety of roles, including university counselor, academic advisor, and adjunct faculty member. An undergraduate education major, Michelle has found that her passion lies with education and student support. Having worked in both a traditional and online undergraduate program, Michelle is able to apply her broad experience to enhancing The American Women's College psychology program both online and on ground. She is inspired daily by the stories of her students and the motivation and dedication they have for their education.
Frequently Asked Questions
Explore our frequently asked questions for in-depth answers. If you don't find what you're looking for, reach out to us.