100% Online Certificate in Nonprofit Management
Duration

6 months

Cost per Credit

$410

Credit Hours

15
Program Benefits
Gain core business knowledge and experience
Build skills specific to nonprofit management
Learn directly from industry professionals
Align Your Work to Your Values: Work in Nonprofit Management
You can complete the online Certificate in Nonprofit Management to advance your role, pursue work in the nonprofit space, or add it to your degree program to expand your career opportunities. Gain experience in program development, grant writing, fundraising, and financial reporting. Graduate ready to step into a nonprofit role with confidence.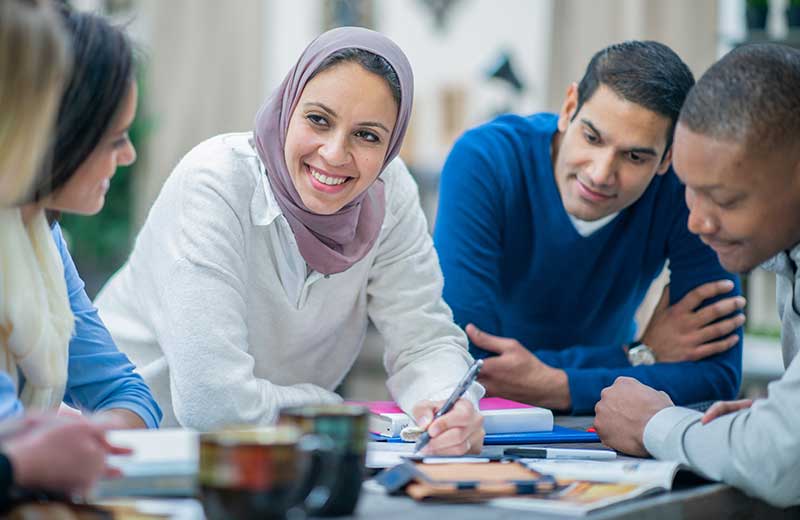 Women Lead the Nonprofit Space
In just the third quarter of 2022, the 1.8 million U.S. agencies in the nonprofit sector contributed $1.5 trillion to the economy, a $1 billion increase over prior quarters.1
Within the sector, women:
Account for 75% of the workforce2
Hold 45% of CEO roles overall1
Hold 60% of CEOs/CGOs at NPOs with $5 billion or more in assets1
Account for 85% of executive roles at NPOs with less than $5 million in assets1
Build Real-World Experience and Skill Sets
Prepare to make a positive change in the world. The curriculum for our online Certificate in Nonprofit Management gives you valuable information on how key areas of nonprofit management differ from the private and public sectors and why it matters. Study topics such as program development, grant writing, fundraising, and more.
You'll get expert-level instruction from industry professionals who prepare you for the real challenges of advanced roles and ensure you can thrive throughout your career.
Course Highlights
This introductory course will provide major and non-major students with an overview of nonprofit and voluntary organizations and their unique role in today's society. Topics include the difference between nonprofit, for-profit, and governmental organizations in terms of mission, impact, governance and leadership. Business practices such as human resource management, organizational development, and financial management will be explored in the nonprofit context. The relationship between the nonprofit and government sectors will be covered as well as the public policy and regulatory environment and its impact on the nonprofit sector.
When developing and accessing programs and services offered through nonprofit organizations the program coordinator/manager employs a number of tools including needs assessment, program planning and program evaluation. This course will introduce students to research in support of the development of programs and services to the community and will include market research, the development and implementation of program services, and methods to monitor and assess program outcomes.
Prerequisite: BUS206
Nonprofit organizations secure revenue from a number of sources including government contracts, private grants, individual contributions, and earned income. This course will focus on securing revenue in support of programs and services with a focus on grants and grant monitoring and financial reporting to private and public funders.
Prerequisite: BUS316
This course examines the theoretical, philosophical, practical and ethical perspectives related to the effective management and leadership of nonprofit organizations in the twenty-first century. Upon completion of the course, the student will possess an understanding of 1) the historical development of the nonprofit sector, 2) the multiple rationales for the existence of the nonprofit sector, 3) the distinctive characteristics of nonprofit organizations, 4) the structures, processes and complexities of organizational governance shared by volunteer board members and professional staff, 5) the dynamic environment of the contemporary nonprofit organization, and 6) the current issues of importance to nonprofit decision makers.
This course provides an overview of America's tradition of philanthropy and its relevance for today's fundraisers. Attention is given to changing expectations for ethical behavior and accountability along with changes in donor markets which impact the practice of philanthropy in the 21st century. This course also examines the theoretical basis and goals of fundraising activities, how to apply the theory to develop a comprehensive development program and a personal fundraising philosophy and framework.
Value of a Certificate
Certificates bring a high level of focus to upskilling a particular area of competencies. In the online Certificate in Nonprofit Management, you'll learn to advance your career to a role in volunteer services, community services, organizational programs, grants, and more.
You may also explore the BS in Business: Nonprofit Management degree.
By Graduation, You'll Have Skills to:
Move into entry-level roles in the nonprofit sector
Approach, fulfill, fund, and report on a nonprofit organization's mission
Tell the story of a nonprofit's successes
Meet 21st-century workforce needs in the nonprofit sector with a holistic understanding of business
Get Started Now
Application Deadline July 2024
We realize how difficult it can be to start something new, so we make it easy and risk-free to get started. There's no application fee, and no test scores are needed.
Applicants will need the following to apply:
A completed application
Official transcripts from your high school or all regionally accredited institutions you have attended
We're Here to Help with Tuition and Aid
Our dedication to your success starts with making our programs financially accessible. Our cost per credit is just $410 in undergraduate programs. Our Student Financial Services team can work with you one-on-one to provide the information you need regarding the FAFSA®, private loans, grants, outside scholarships, and more.
Frequently Asked Questions
Explore our frequently asked questions for in-depth answers. If you don't find what you're looking for, reach out to us.
Choose to add a certificate to your degree program or to upskill your nonprofit management abilities. The Nonprofit Management Certificate gives you the current knowledge necessary to work within any nonprofit organization with confidence.
Our application deadlines are on a rolling basis, please visit the Admissions page for start dates and their deadlines.
You'll complete 15 credits to earn the Nonprofit Management Management Certificate. View courses now.
Those with a Nonprofit Management Certificate have upskilled their knowledge of nonprofit organizations to advance or transfer their careers in that sector. If you add this certificate to your degree, you can be confident in taking on management careers in the nonprofit equivalent of your area of study.
Visit our FAQ page