100% Online Women's Leadership and Organizational Studies Certificate
Prepare to Succeed
Request More Information
Complete this form to receive information about coursework, admissions, tuition, and more.
Duration

6 months

Cost per Credit

$410

Credit Hours

15
Program Benefits
Gain core business knowledge and experience
Complete advanced leadership training
Learn directly from industry professionals
Refine Your Leadership Skills and Advance Your Career
Become a standout leader who makes smart decisions that improve the bottom line and company culture. The online Certificate in Leadership and Organizational Studies from The American Women's College of Bay Path University can be taken as part of your degree program or to upskill your current position. You'll master the skills to think entrepreneurially and make evidence-based decisions while managing organizational development and change, finances, and ethics.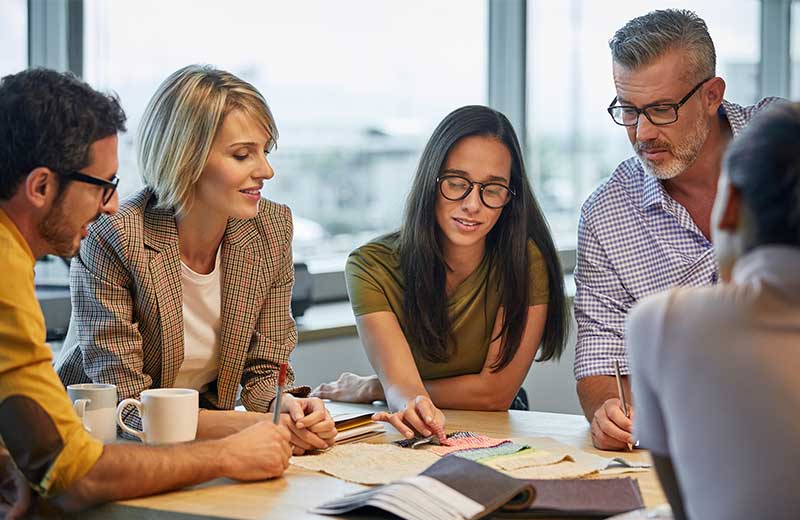 Be Empowered to Manage
Management positions overall are expected to grow at a faster-than-average rate of 8% from 2021 through 2031, resulting in 883,900 new jobs.1 The average income for all management titles was $102,450.1
The online Certificate in Leadership and Organizational Change helps you to develop the top four career-ready skills Indeed identifies as critical for managers to be effective.2
Make decisions quickly
Be an effective communicator
Create strong strategies
Have the ability to problem solve
Curriculum: Build Real-World Experience and Skill Sets
Prepare to make positive changes in the lives of others and your company. The curriculum for the online women's leadership certificate program gives you the credentials, knowledge, and critical thinking abilities employers demand for leadership roles.
You'll get expert-level instruction from industry professionals who prepare you for the real challenges of advanced roles and ensure you can thrive throughout your career.
Course Highlights
In the twenty-first century, businesses are increasingly becoming globalized in a number of ways, including providing goods and services in international markets, relying on supplies from other countries, and outsourcing work. It is critical for leaders and managers to understand the global context of business, become familiar with cultures and societies with a variety of customs and expectations, and understand the economic interdependence of nations. This course introduces major factors (economic, sociocultural, transnational management, strategic planning, human resources, marketing, finance and technological) in the global environment and examines the effects on organizational and managerial practices.
This course gives students an understanding of planning, budgeting, and finance within an organization or business. Managers are responsible for helping an organization understand its financial status, develop strategies to meet goals, and to help earn a profit. This course introduces the language of accounting and finance, how to create an effective budget, how to analyze financial statements to ensure that an organization's goals are being achieved, and how to make ethical decisions to maintain the financial health of an organization.
This course introduces critical aspects of leadership including power, accountability, and ethics. Theories of ethical reasoning (such as deontological ethics, utilitarianism, and virtue ethics) are examined and applied in various situations. Students examine the legal and moral implications of decisions related to human resources, finances, operations and organizational development. An emphasis is placed on diverse human relationships and ethical dimensions of issues. Students will think critically about ethical systems and leadership theories and apply lessons learned to develop their own philosophy and practices.
Prerequisite: A grade of 'C' or higher in LOS 350
The goal of operations strategy in any organization is to achieve consistent delivery of products and services to meet customer needs and the business's overall plans. The course explains the relationship between operations and other leadership functions and how business processes can be better managed and enhanced for greater efficiency. Topics include strategic and tactical decision-making, quantitative and qualitative analysis, project management, and the role of technology in leading and managing organizations. Students will consider services operations, process analysis, and quality management to translate conceptual learning to real-world situations.
Those leading today's business and not-for-profit organizations face unprecedented economic uncertainty, technical advances, speed of communication, and flexibility of human capital. These factors result in the need to manage change in order to prevent organizations from losing their organizational capacity and progress. This course is designed to help students understand frameworks for planning organizational change and the processes, tools and techniques to manage the people side of change to achieve a required business outcome. The course incorporates methods to identify, collect, assess, and deploy data to make decisions to effect change as well as manage potential resistance. Students will become proficient in evaluating various types of data and will learn some of the ways qualitative and quantitative data can be used to inform decision-making.
Value of a Certificate
Certificates bring a high level of focus to a particular area of competencies. In the online Certificate in Leadership and Organizational Studies, you'll become a confident and compelling leader who can take changes in stride and implement them to improve the outcomes of goals.
By Graduation, You'll Have Skills to:
Lead organizational change effectively by leveraging resources
Use negotiation skills to resolve conflicts and implement innovative solutions
Design change interventions and change management strategies
Demonstrate change agent competencies in systems thinking, analytic data collection and research, consultation skills, project management, and strategic planning
Identify sources of data within an organization and perform qualitative and quantitative analyses
Capitalize on technology as a driving force for communications and change
Get Started Now
Application Deadline 08/30/23
We realize how difficult it can be to start something new, so we make it easy and risk-free to get started. There's no application fee, and no test scores are needed.
Applicants will need the following to apply:
A completed application
Official transcripts from your high school or all regionally accredited institutions you have attended
We're Here to Help with Tuition and Aid
Our dedication to your success starts with making our programs financially accessible. Our cost per credit is just $410 in undergraduate programs. Our Student Financial Services team can work with you one-on-one to provide the information you need regarding the FAFSA®, private loans, grants, outside scholarships, and more.
Frequently Asked Questions
Explore our frequently asked questions for in-depth answers. If you don't find what you're looking for, reach out to us.
Choose to add a certificate to your degree program or to upskill your change management abilities. Choosing the online Certificate in Leadership and Organizational Studies in partnership with a degree program gives you focused knowledge to manage in your area of study. Those who take the certificate independently can advance their careers and better lead their teams.
Our application deadlines are on a rolling basis, please visit the Admissions page for start dates and their deadlines.
You'll complete 15 credits to earn the Certificate in Leadership and Organizational Studies.
Those with a Certificate in Leadership and Organizational Studies have upskilled their knowledge of change management to advance or transfer their careers to management roles within an organization and lead complex changes.
Visit our FAQ page