Online Bachelor's in Liberal Studies
Choose a Degree Tailored to Your Professional Goals
Transfer up to 90 Credits
Request More Information
Complete this form to receive information about coursework, admissions, tuition, and more.
Duration

3.5 Years

Cost per Credit

$410

Credit Hours

120
Program Benefits
Build foundational skills for a wide range of in-demand industries
Access courses on your schedule through an interactive, virtual classroom
One-on-one instruction from expert faculty
Become an Expert Problem Solver with a Custom Education
The online BA in Liberal Studies degree from The American Women's College of Bay Path University (TAWC) allows you to customize your education for the career you want. In addition to the general liberal studies bachelor's degree, the program also offers six career-focused major options. Choose the program that best supports your goals and graduate with the skills to go further in your career, plus the credential to pursue graduate study.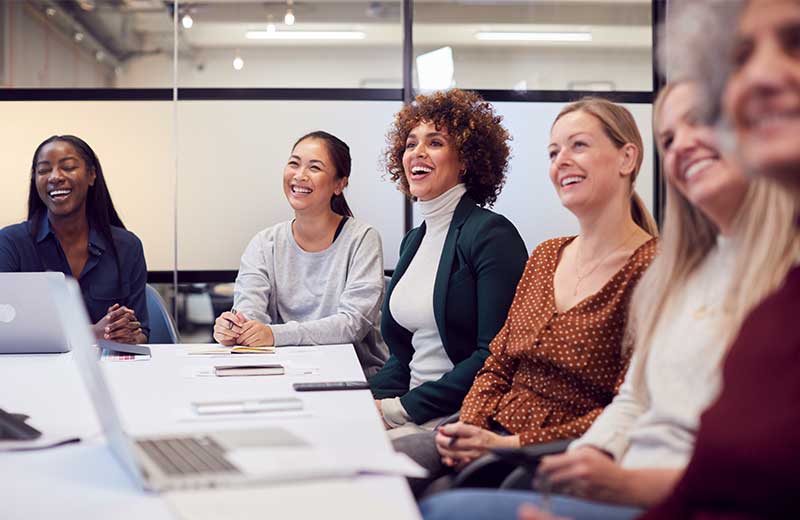 Unlock Your Professional Potential
According to research published by the Bureau of Labor Statistics, the communications field is expected to grow 6% by 2031 and create thousands of new jobs for liberal arts professionals throughout the decade.1 Whether you're interested in a career in media, design, healthcare, or education, the online Bachelor of Arts in Liberal Studies degree will provide you with the foundational skills it takes to achieve your goals.
Explore Careers
Choose Your Major
Customize your BA in Liberal Studies degree by choosing from a variety of career-focused majors designed to help you achieve your professional goals. A general degree pathway is also available.
Education
Learn how to best teach children within or outside of a formal classroom. Our programs offer curriculums designed to get you licensed with the Massachusetts Department of Elementary and Secondary Education as well as non-licensure programs that align with your educational interests and career goals.
Digital Information & Design
Succeed in a digitally based, information-driven world. Learn how to mine for, and interpret big data while mastering the art of using and presenting data in creating strategies and assets. You'll study the fundamentals of communication technology, data analytics, coding, text mining, programming languages, and web design.
Health Care & Wellness
Build foundational health and science skills with a deep dive into anatomy and physiology essentials. Customize your learning experience to match your career goals when you select from electives that include social science, behavior, and health elective courses.
A Curriculum Designed to be Customized
The online Bachelor of Arts in Liberal Studies degree allows you to customize your learning experience by choosing humanities, social science, and career-focused electives based on your own professional interests. You'll build in-demand critical thinking and communication expertise that can be applied in nearly all industries.
Course Highlights
Research and Writing in the Disciplines
Strategies for Career and Personal Growth
Social Science Elective
Curriculum Details
Apply Today
Transfer up to 90 Credits
Are you ready to take the next step toward career success? Unlock your professional potential and apply to the online BA in Liberal Studies degree today.
Applicants will need the following to apply:
A completed application
2.0 GPA or higher

Note: Students with a GPA under 2.0 may be considered
Official transcripts from your high school or all regionally accredited institutions you have attended
Admission Details
Invest in Your Education
$49,200 Estimated Total Tuition
The online Liberal Studies major offers a custom academic experience designed to support your professional goals. Earning your degree online with TAWC is an investment in your future, which is why the University provides options when it comes to financing your education. Discover the financial aid resources available to you.
Tuition Details
What You'll Learn
Choose what you study and the skills you learn with the online BA in Liberal Studies degree. From social science to the humanities, you'll explore a variety of topics and build expert critical thinking and problem-solving skills that can be applied in a wide range of professional fields.
By Graduation, You'll Have Skills to
Engage and learn from perspectives and experiences different from one's own and understand how one's place in the world both informs and limits one's knowledge
Understand the interrelationships between multiple perspectives, such as personal, social, cultural, disciplinary, environmental, local, and global
Integrate learning across courses, over time and between campus and community life
Become an effective, integrative learner able to make simple connections among ideas and experiences, as well as synthesize and transfer learning to new, complex situations
Develop critical thinking skills characterized by your comprehensive exploration of issues, ideas, artifacts, and events before accepting or formulating an opinion or conclusion
Recognize that success in all disciplines requires habits of inquiry and analysis that share common attributes
Become a dialectical thinker and demonstrate solid knowledge of disciplinary parameters and push beyond those boundaries in new, unique, or atypical recombination by uncovering or critically perceiving new syntheses and using or recognizing creative risk-taking in order to envision a response
Develop well-rounded thinking skills that provide the ability to know when there is a need for information, as well as to identify, locate, evaluate, and effectively use and share that information for the problem at hand
Plan your own unique academic path through the college experience
Become an effective problem solver and gain high-level literacy skills
Learn from Industry Experts
At The American Women's College, your learning is expanded by the rich workplace experience our faculty bring to the classroom. Faculty are professionals who hold an array of titles in the fields they teach. Their involvement in the day-to-day challenges of their role and industry brings curriculums to life with real-world examples as you connect what you learn to what they share.
Faculty Spotlight
Each faculty member at TAWC incorporates real industry experience into each lesson. As a student, you'll receive personalized, one-on-one support and graduate fully prepared to face the challenges of your chosen field.
Emily Thompson, MA, Director, Liberal Studies, Communications & Justice Studies
Emily Thompson began her teaching career in 2012 with the English department at Northern Virginia Community College. This formative experience instilled a passion for equity-minded pedagogical practices that make higher education as accessible as possible to all learner populations. Emily carried this passion for equity and accessibility when she joined The American Women's College as an Academic Director in 2016. She strives to apply a student-centered mindset to every aspect of her academic programs.
Emily holds an MA in English Literature from George Mason University and is a Ph.D. Candidate at UMass Amherst, specializing in English Renaissance drama and theatre history. Her other areas of interest include performance studies, body studies, affect theory, posthumanism, and decolonized pedagogy. Her dissertation studies the affective encounters between stage and spectator during staged bodily violence in Tudor and Stuart tragedy.
Frequently Asked Questions
Explore our frequently asked questions for in-depth answers. If you don't find what you're looking for, reach out to us.