Online AS in Early Childhood Leadership
Duration

2 years

Cost per Credit

$410

Credit Hours

60
Program Benefits
Apply your associate credits to a bachelor's degree program
Learn in an interactive, virtual classroom
One-on-one instruction from faculty
Inspire Learning and Support Early Development
Become an impactful influence in the lives of young children with the online AS in Early Childhood Leadership degree from The American Women's College of Bay Path University (TAWC). This accelerated program offers asynchronous courses and the skills to support early childhood education. You'll graduate with the credential to pursue leadership roles in childcare settings or continue your education with a bachelor's degree.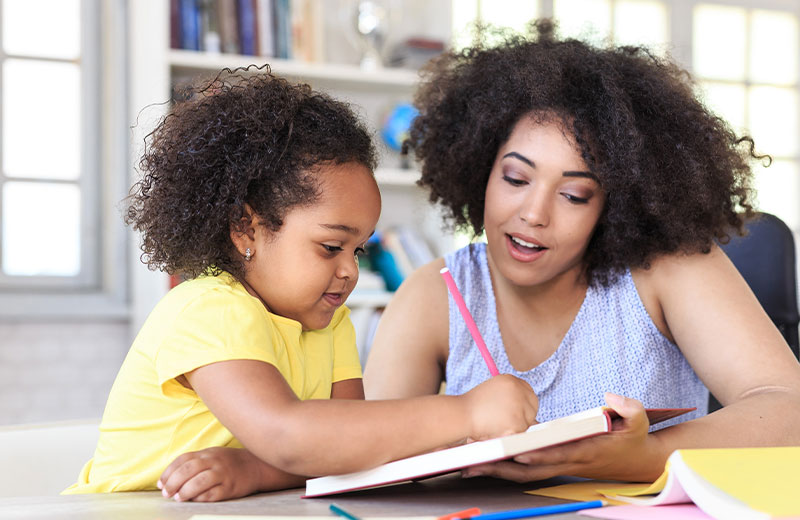 In-Demand Roles that Make a Difference
According to the Bureau of Labor Statistics, more than 72,000 new positions for preschool teachers alone are expected to be created by 2031.1 With this online program, you'll build the foundation required for teaching roles and graduate eligible to apply for Early Education and Care (EEC) Certification. Learn more at our EEC Certification page.
Explore Careers
Asynchronous, Career-Focused Courses
The online AS in Early Childhood Leadership degree offers courses that explore the diverse needs of young learners. From childcare administration techniques to special education, this accelerated program delivers the skills you need for success in the career you want.
Course Highlights
Education, Schools, and Culture
Introduction to Special Education
Guiding Behavior in Early Childhood Classrooms
Curriculum Details
Apply Today
Transfer up to 30 Credits
Don't put your professional goals on hold. Discover what you could achieve and apply to the online AS in Early Childhood Leadership program today.
Applicants will need the following to apply:
A completed application
2.0 GPA or higher

Note: Students with a GPA under 2.0 may be considered
Official transcripts from your high school or all regionally accredited institutions you have attended
Admission Details
Invest in Your Education
$24,600 Estimated Total Tuition
By choosing the online AS in Early Childhood Leadership degree, you're choosing to invest in a brighter future for yourself and your family. With TAWC, you have options when it comes to financing your education. Discover the financial aid resources available to you.
Tuition Details
What You'll Learn
The online AS in Early Childhood Leadership program delivers skills that can be immediately applied in a variety of childcare, preschool, and early learning environments. You'll gain a strong understanding of the diverse needs of young children, plus the knowledge to nurture early development effectively while making a positive impact.
By Graduation, You'll Have Skills to:
Understand young children's characteristics and needs, as well as multiple influences on development and learning
Demonstrate knowledge and understanding of early childhood development to create healthy, respectful, supportive, and challenging learning environments
Articulate knowledge and understanding of diversity and engaging family and the community to support early childhood development and learning
Develop understanding of assessment to know how to integrate into curriculum and instruction, including children with disabilities in early childhood classrooms
Describe importance and understanding of creating positive relationships with young children and reflect on own teaching strategies to provide a positive early learning environment.
Identify developmentally appropriate teaching strategies and describe all resources for the early education classroom, such as use of technology
Apply knowledge and understanding of main academic concepts to create, implement, and assess curriculum that is developmentally appropriate for the early childhood classroom
Identify early childhood professional guidelines, advocacy resources for young children, and professional development opportunities to continuously improve as an early child educator
Engage in observations and other field experiences in the early childhood classroom
Learn from Industry Experts
At The American Women's College, your learning is expanded by the rich workplace experience our faculty bring to the classroom. Faculty are professionals who hold an array of titles in the fields they teach. Their involvement in the day-to-day challenges of their role and industry brings curriculums to life with real-world examples as you connect what you learn to what they share.
Faculty Spotlight
Each faculty member at TAWC incorporates real industry experience into each lesson. As a student, you'll receive personalized, one-on-one support and graduate fully prepared to face the challenges of your chosen field.
Shirley Montovani, MEd, Associate Director, Education
Shirley started her educational journey by obtaining her Associate degree in Psychology at Santa Fe Community College in Gainesville, Florida. Upon returning to Western Massachusetts after graduation, she continued her education with Westfield State College and earned a Bachelor's degree in Psychology.
She then went on to work in human services, sales, and marketing until making the decision to continue her education at Cambridge College, earning a Master of Education degree and becoming a Licensed School Guidance Counselor.
After briefly working as the Director of Career Services for a proprietary school, she was given the opportunity to work as the first educator coach for the One Day students at Bay Path University in January 2014. She is currently the Associate Academic Director of Education Programs at TAWC within the School of Education at Bay Path University. She shares that she is truly inspired and commends all of the students for taking this step to continue their educational and career goals.
Frequently Asked Questions
Explore our frequently asked questions for in-depth answers. If you don't find what you're looking for, reach out to us.