100% Online AS in Business Administration, an Accelerated Degree
Duration

2 Years

Cost per Credit

$410

Credit Hours

60
Program Benefits
Gain core business knowledge and experience
Build advanced leadership skills
Learn directly from industry professionals
Ranked #10 in the Best Online Business Administration Associate degree programs by University HQ1
Get a Strong Start to Your Business Career
Build a brighter future — earn your associate degree in Business Administration online in accelerated courses at The American Women's College (TAWC) of Bay Path University.
Within the associate program, you'll learn everything you need to get your start in a professional business role from expert faculty. You'll build your confidence and real-world experience as you study marketing, management, accounting, business law, and more.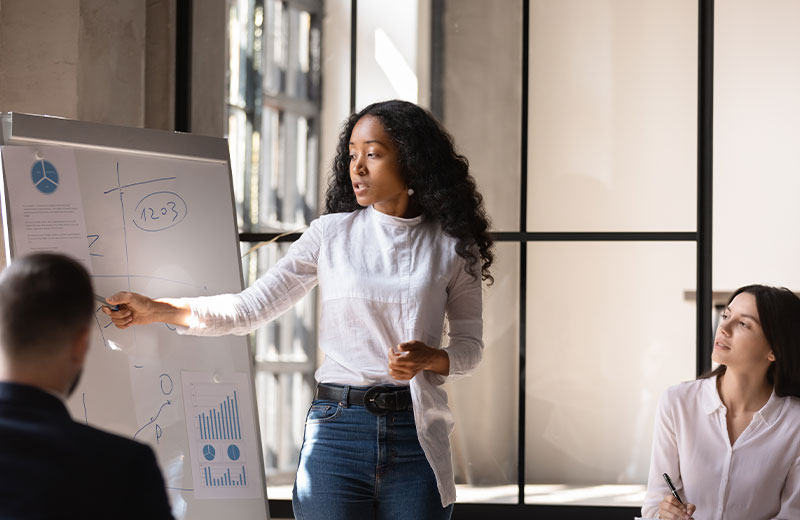 Open Doors to Professional Roles and a More Secure Future
In a recent survey, 62% of employers demanded a degree for entry-level roles, and 40% believed those with a degree were better suited for them.2
Not only can your AS in Business Administration get you in the door to advance your career faster, but studies also show you can earn more. On average, associate-degree holders earn $2 million during their careers, which is $400,000 more than those with a high school diploma.3
Explore Careers
Complete a Real-World Curriculum to Build Experience
The curriculum for the online AS in Business Administration program gives you a running start for the professional role you want. You'll gain valuable hands-on experience as you study the key areas of business and complete advanced leadership training that enables you to thrive throughout your career. Expert-level instruction and feedback from the professionals who teach the coursework help prepare you to step into a more advanced role.
Course Highlights
Principles of Marketing
Dynamics of Management
We Empower Learners and Leaders (WELL)
Curriculum Details
Admissions Details – Get Started Now
No ACT/SAT or Application Fee
We realize how difficult it can be to start something new, so we make it easy to get started. There's no application fee, and no test scores are needed.
We accept up to 30 transfer credits, and you can earn college credit for your prior life experiences.
Applicants will need the following to apply:
A completed application
2.0 GPA or higher

Note: Students with a GPA under 2.0 may be considered
Official transcripts from your high school or all regionally accredited institutions you have attended
Admission Details
Tuition & Aid – We're Here to Help
Our dedication to your success starts with making our programs financially accessible. Our cost per credit is just $410 in undergraduate programs. Our Student Financial Services team can work with you one-on-one to provide the information you need regarding the FAFSA®, private loans, grants, outside scholarships, and more.
Tuition Details
What You'll Learn
With your AS in Business Administration in hand, you can step into a professional role with confidence, knowing you'll be an asset to the team with your business skills and real-world experience.
By Graduation, You'll Have Skills to:
Analyze economic (global and domestic), socio-cultural, political, legal, regulatory, and technological trends affecting any given region of this country, clarifying the likely implications of these trends on small businesses and non-profits as well as large corporations
Determine market and product/service development opportunities and challenges associated with these trends
Consider multiple stakeholder perspectives to be considered during the development and implementation of new strategies
Demonstrate the relationship between business activities, economic outcomes, and the evaluation of business performance, including all ethical considerations
Understand and be able to use quantitative methods and available technology and applications to address everyday business problems and opportunities
Understand core business disciplines, including Finance and Accounting, Marketing, Operations, Human Resources, IT, and Legal
Value collaborative, data-driven, systematic approaches to solving interdisciplinary problems and making ethical decisions
Communicate focused messages to all stakeholders, as appropriate, via all forms of media, as well as face-to-face
Recognize diverse personalities, professional backgrounds, personal experiences, and dialogue as fundamental building blocks of high-performing teams
Learn from Industry Experts
At The American Women's College, your learning is expanded by the rich workplace experience our faculty bring to the classroom. Faculty are professionals who hold an array of titles in the fields they teach. Their involvement in the day-to-day challenges of their role and industry brings curriculums to life with real-world examples as you connect what you learn to what they share.
Faculty Spotlight
Each faculty member at TAWC incorporates real industry experience into each lesson. As a student, you'll receive personalized, one-on-one support and graduate fully prepared to face the challenges of your chosen field.
Megan Piccus, Senior Director of Business Programs at The American Women's College
Megan comes to Bay Path with years of business and academic experience and is delighted to bring her enthusiasm for teaching and business expertise to The American Women's College.
Megan is the program director for the Business programs that include business administration, accounting, business analytics, operations management, strategic HR management, entrepreneurship, and digital marketing. She is additionally responsible for the leadership and organizational studies program.
Megan has worked in business for United Technologies Corporation (UTC). She was most recently at Pratt & Whitney based in East Hartford, CT, where she managed talent development for the Manufacturing Engineering population for all Pratt US operations. She also worked at United Technologies Aerospace Systems, another UTC company, where she had various operations and management roles.
Megan has 18 years of teaching experience at Springfield Technical Community College as a tenured professor with a teaching specialty in operation management (Quality/6 Sigma/Lean).
Frequently Asked Questions
Explore our frequently asked questions for in-depth answers. If you don't find what you're looking for, reach out to us.